Combat is a world created by OzySEO and Iao Moonshadow that came into being during a conversation between the two at MaxPoly's Birthday Party. From there, Ozy and Iao became partners that combined their skills as award winning builders to create the world we fight in today.
While Iao owns and operates the world along with advertising the competitions, Ozy created and programed the games. Ozy created two games that can be played all day and all night. First is the Combat Game on Battle Contest, which has an area that takes up 3/4th's of the world, on Saturdays at 9 pm VRT. This game runs a special 1 hour round with prizes of in-game cash and MyAW points that can go towards many different things. The second game is Paintball, which takes up the final quarter of world space, open 24/7 except for during the combat contest. This part of the world also has monthly elimination rounds that offer a Combat Credit pay out for the top two winners.
If you come in as a new player, you're already armed with basic weapons fully loaded and ready to shoot as soon as you exit Ground Zero. You also arrive with $500 Combat Credits and a full health bar. Before you go shooting your gun off, make sure to grab some extra ammo so you don't run out, and take a run through the firing range, sniper range, and the Zombie run where you can earn more credits that can go towards many things. With credits you can buy new weapons that can shoot even farther, more ammo so you can shoot longer, and armor so you can get shot without getting critically hit for longer.
Keep in mind, there are only two locations where you can get armor and the most advanced weapons. Look for the Future Tech Corp building on the west side of the combat zone or the Future Tech outlet in the mall at the center. Also, if you're ever injured yet survive, look for the medical building at each side of the battle zone. Along with the health buildings there are weapons shops where you can buy basic weapons and extra ammo.
"Make sure to repair your armor," is the recommendation of one of the top players, Grell Sutcliffe; a good tip to keep you alive, even after receiving a critical hit in battle. As a top player, here's Grell's recommendation for playing: "Sniping isn't for everyone, but if no one comes around for a bit, don't feel bad about leaving it to join in on the streets."
Though this weekend had few people during the battle due to a change in time, it was still an intense battle. Also held was the monthly Paintball elimination game, a set of three rounds wherein the winners of the first two battle it out in a third. Again, very few attended the paintball game but the final round was intense, filled with back and forth splatting.
Let's start with the Combat Game on Battle contest. This round started with only four players in the world aside from Iao; Toxor, Grell Sutcliff, KittenWithClaws, and Beauty. These four were eventually joined by Iao Moonshadow and Hydrogen.
First blood went to Toxor, a critical hit landing on Kitten early in the game. Toxor also took second blood, getting in the critical hit first between him and Grell. Both girls got their revenge though, each taking out Toxor once after a volley of shots.
A world hiccup interrupted the game for a moment, teleporting everyone out of the world before dropping them off at their homes. After the minor interruption Toxor hit Grell a second time, leading the group by two. Grell hit Toxor three times in a row to take the lead soon after that, and then Kitten hit Grell to start in the race to the top.
After a volley of shots fired and kills made, broken by a temporary leave of absence for Toxor, Kitten takes a big lead, jumping up to 8 kills over Grell's 6 and Toxor's 3. At almost half way through the game it looks as though Kitten might steal the win again.
Another 20 minutes were filled with volleyed shots back and forth until, in the last 10 minutes of the game a new player, Hydrogen, joined the game, getting the hang of it fast and landing a critical hit on Kitten. In the end, like so many games before, Kitten won with 18 kills, Grell taking second with 10, and Toxor taking third with 5.
After a brief pause where prizes for the game were paid out it was time for the Paintball Monthly Elimination game. Paintball is run a bit differently, while Combat makes it so that you potentially have to hit another player multiple times, depending on their armor and health, in paintball the player is reset each time they're hit. Get hit ten times and you're out till the next round.
Round one had 4 players, Hydrogen, LaytonRonpa, Kitten, and Mike Scarn. After some technical difficulties the first round was under way.
The first hit was Kitten, getting splatted by Layton almost right after the round started. There was plenty of back and forth splatting between all players, one hitting then getting hit in the chaos. Players would get revenge soon after being hit then get hit by another, it was almost too hard to keep track of.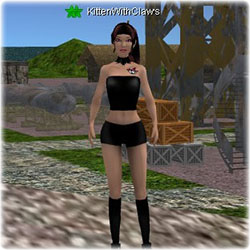 The first major event was Kitten losing her touch and being eliminated at 12 minutes in by Hydrogen. Mike soon dropped out, getting stuck to often to be able to play. Layton was the final casualty at Hydrogen's hands, getting eliminated just two minutes after Kitten. This declared Hydrogen as the winner of round one and guaranteed his participation in the fiery final round.
Round two only had Kitten and Layton playing, Hydrogen sitting out till the third round and Mike still experiencing difficulties. The two entered and waited for the game to start. The round was over rather fast, Layton landing only a few hits before Kitten eliminated her.
Round three was a Hydrogen verses Kitten super round. Both are strong players and this is how the battle went down.
Hydrogen was the first to get hit but he quickly got his revenge, hitting her back the next time they met. There was lots of back and forth, both players seeming to have the upper hand at times. Hydrogen landed 6 hits before Kitten eliminated him and took the title of June's Paintball Elimination winner.
And that concludes June 4th 2016 events in the world Combat. Congrats to all players for a good round that presented new challenges to everyone. Hope to see you this Saturday at 9 pm VRT in Combat world for the next Combat Game on Battle Contest.